THE KUNKLE FAMILY





Welcomes you!
Welcome to the Kunkle family Website!  Though it is called the "Kunkle" family, it is really about our extended family also, including our past, present and future families.  Some of it is genealogy material, but it is in no way intended to imply that all of the genealogy is sourced and proven.  Some of it is, but some of it is information that others have shared with me from various sources, not necessarily accepted genealogical research.  So, please, if you have stumbled across my site, please feel free to read, and perhaps enjoy it, but please don't take it as gospel.  I leave that to real genealogists, and if you have any information that you are willing to share, I'd love to hear from you.  You can reach me, Joan Kunkle, at Barrel.Valley@comcast.net

or by phone at 724-478-3428.

If you are an early visitor to this site, you will immediately see that I'm not very experienced at this, but with my daughter, Shannon's, help, maybe I can make it enjoyable as I go along.  I hope to put a little family history in it, lots of photos of the family and our interests.  I will be including family stories, more so than just the genealogical names and dates. 

For the family tree of my father's mother, Hazel Alwilda (Walker) Matson, you can go to Becky Thill's wonderful website, which is included in my links.  This is the one that goes back to the kings and queens of Great Britain, and while it's neat to have the royalty in the family, I'm just as glad to have Daddy's paternal ancestors, the Fiscus brothers, who were arrested in the 1700's for stealing a pig, and Mummy's maternal grandfather, Dorry Morris, who abandoned his wife and children to the poorhouse, and only came back to steal his daughters' new gowns that they were to wear to a tea dance.  The black sheep in the family are just as much a part of us as are the saints, and by the way, there are a few of them too.

We also have lots of soldiers in the family, from the Welsh Warrior Princes, William The Conquerer, Revolutionary War soldiers, Indian fighters in frontier Western Pennsylvania, Civil War, WW1, WW2, Viet Nam, and the first Gulf War.  Cousin Alison Waring's sons are serving now with the British Army stationed in Northern Ireland.  One of Mummy's quotes was, "A country that is worth living in is worth fighting for."  And it would seem that our family has done its share of fighting for their countries, and sometimes dying for it. 

And don't forget the women in the family who walked across the mountains to the frontier in Western Pennsylvania, living in log homes, raising their children, and making everything that went into or onto their families.  They had to care for them while at the same time being watchful for the dangers of Indians, poisonous snakes, and illnesses that could take the lives of their loved ones. 

Or the English ones; Granny Alice Morris, who had to raise her children alone, and her daughter, Catherine Partridge, who raised ten children after her husband was killed in WW1, by working as a cleaning lady in the local Catholic church. 

In case you are curious about the photos at the top of the page, the one in the center is a photo of the Matson farm in Barrel Valley, South Bend Township, Armstrong County, Pennsylvania.  It was taken, probably in the late 1950's or early 1960's from the top of the hill across Route 156 on the property of June and Ethel George.  It shows how at that time, Grandpap Frank Matson was still keeping the farm using only work horses and his own physical labor.  You'll be reading lots about Grandpap, as we all loved him deeply and he was a hero to all of us when we were growing up. 

The other photo is of a tulip grown from bulbs taken from Queen Elizabeth's garden at St. James Palace in London.  Last year, 2002, cousin Alison Waring, from Yorkshire, went to London for a fitting of the bridesmaid gown of her daughter, Sally, who was to be a part of her older brother's wedding.  While the fitting was taking place, Alison went walking in London, and as she was passing St. James Palace, she saw a gardener digging up the spring bulbs to replace them with the flowers for the Queen's Jubilee.  She asked the gardener what she was going to do with the bulbs and the gardener said she was going to throw them away.  Alison asked if she could have some.  The gardener said, "No, I can't give away the Queen's flowers, but if I turn my back and you take some, I couldn't stop you."  So, Alison filled her purse.  She sent me four bulbs, and I read all my gardening books to learn how to grow them.  They sun bathed on my deck, then were wrapped in newspaper in the china cupboard, then resided in my refrigerator until October, when they were planted in different flower beds in hopes that at least one would survive.  Despite last year's harsh winter, one did survive, a small, delicate tulip that bloomed for two weeks. 

I thought that the two photos represent both sides of my family, the American and the English.  Last week I was watching the Incurable Collector on TV, and one lady who collects perfume bottles showed one that was made in the 1600's by an ancestor of Larrys (and mine, by the way) the earliest Kunkle we have record of, a respected glass blower in Germany.  I hope to contact the lady and get a photo of the bottle to add to the website.  Larry's mother, Ruth (Turner) Kunkle is also of English ancestry, so the second tulip represents her side of the family also.

Below I have tried to type in a pedigree of the Partridge side of the family.  I'll have to redo it later, and try to do it right, but for now, there are cousins in England who would like to see some of what I have found, so I typed it quickly.  When I figure out how to put a pedigree from the Family Tree Maker, I'll do that, but for now, this is the best I can do.

A little background on the Partridges.  When I was a little girl, Mummy told me that Grandfather Ernest Partridge's father was a gardener for the Duke of Devonshire, and that his mother was the daughter of the Duke, disowned after her secret marriage.  She had the story wrong, however.  Ernest's father, Charles Partridge, was a servant of the Duke of Devonshire, at Chatsworth House, Edensor, Derbyshire.  Ernest's mother wasn't the Duke's daughter though, she was a local girl from Poddington, sometimes called Puddington, in Bedfordshire.  I have copies of Ernest's christening, and the Duke isn't the Granddaddy.  So, while Mummy was a little mixed up in the story, there was a bit of fact, his birth on the estate of the Duke of Devonshire. 

Edensor is the village on Chatsworth Estate where all the estate workers lived.  I have photos of the village that I will put here when I figure out how to get them out of my sick computer and onto the new one.

Anyway, pedigree below.  And a better one coming soon.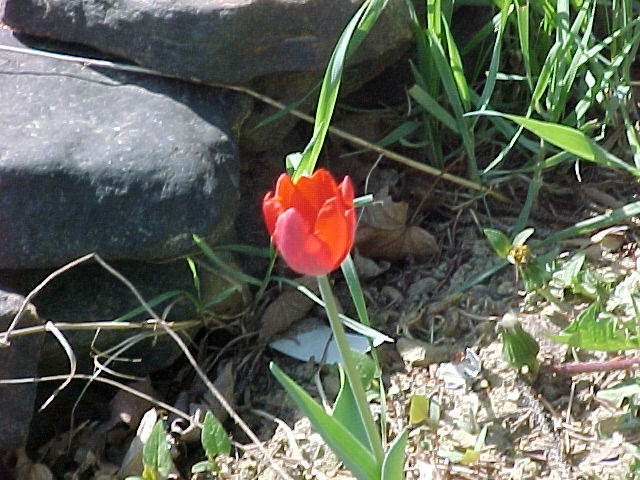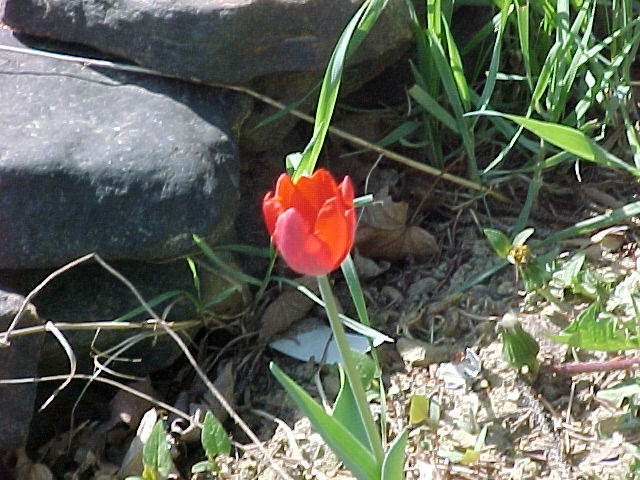 Edith Gertrude Partridge

B. 5/8/1909 Rushden, Northamptonshire, England

D. 12/07/1989, Barrel Valley, Armstrong Co. PA

Ernest Montague Partridge

B. Abt. 1879 Edensor, Derbyshire

D. 7/17/1916 France

Catherine Alice Morris

B. 12/18/1877 Wellingborough, Norhamptonshire

Charles Partridge

B. 1842 Poddington, Bedfordshire

Elizabeth Horn

B. 1847 Hinwick, Bedfordshire

William (Dorry) Morris

B. Wellingborough, Northamptonshire

Alice Elizabeth Chappell

B10/30/1859, Kempston, Bedfordshire

Thomas Partridge

B. 6/10/1821, Odell, Bedfordshire

Benjamin Horn

B. 1812, Poddington, Bedfordshire

James Chappell

B. 7/02/1839, Kempston, Bedfordshire

Isabel/Isabella Wright

B.8/20/1842, Kempston, Bedfordshire

William Partridge

B.5/25/1793, Poddington, Bedfordshire

John Bilson

M. 5/31/1819, Puddington, Bedfordshire

John Chappell

B. 7/02/1797, Wilstead, Bedfordshire

Elizabeth Coles

B. 8/19/1798, Wilstead, Bedfordshire

Richard Wright

6/10/1809, Kempston, Bedfordshire

William Partridge

B. 1/28/1753, Poddington, Bedfordshire

Thomas Chappell

M. 1/5/1796

John Coles

M. 9/11/1794, Edworth, Bedfordshire

Elizabeth Langley

B. 8/30/1773 Edworth, Bedfordshire

Bolt Partridge

M. 7/24/1748, Sharnbrook, Bedfordshire

I know that the above pedigree is hard to read and understand, but it has all the names of our ancestors that I have at this date.  For this, I want to thank Michael Chappell, Alison Waring, Sheila Crack, David Gretton, and especially Maureen Byard.  Maureen isn't even a relative, she just lives in Derbyshire near Chatsworth Hall.  She answered a query of mine on a Derbyshire e-mail list, and was kind enough to drive down to Edensor and take photos and look up the christening records of the children of Charles Partridge.  Recently I met, over the Internet, a new cousin of ours, Margery Addlem, who descends from Charles Partridge's brother, Jesse.  She lives in Australia, and has sent me the information on her family.  And I promise Margery, I am working on putting our information together to send to you!  Michael Chappell filled in the Chappell side for me, and hopefully he's well enough soon to share with me more that he has since found.

By the way, our cousin, Michael Chappell, is an artist who paints and sculpts.  He sends me photos of his work via e-mail (again, on the old computer, so I don't know how to put any of it here), and he has snail-mailed me copies of newspaper articles about one of his art contest wins.  Any of you American cousins who stop in, I'll show them to you.

I think that here I'll inject a some of the very few stories I have heard about which have been passed down through the family.  If you have any additions or corrections to add, please e-mail me and I will include them.   And any stories that you share with me, I will be happy to add.

Grandma Kelly:  Catherine Alice Morris Partridge Kelly, daughter of Alice Elizabeth Chappell and William (Dorry) Morris, was born in 1877.  She was the second child, having an older sister, Mary Ann Elizabeth, called "Aunt Polly" by Mummy, and a younger brother, Edwin, known as Teddy.  Dorry doesn't appear to have been much of a family man, and left his young family destitute much of the time.  They spent some amount of time in the workhouse where little Teddy choked to death on a grape given to him by a well-meaning benefactor there.

   June 20,2003....  I received a note from cousin Paul Kelly, in London, in which he adds a correction to this story.  He says that little Teddy Chappell actually died of "consumption", and that the grape story happened about 1920, when my mother and his were playing with our uncle Donny near a greengrocers.  They kept telling him not to eat some "throw out" grapes, which, due to 1920's food standards had some natural "bloom" on them.  He, being four years old, didn't listen, and ended up with food poisoning, which killed him.

   The same evening, talking with my sister, Sandra Brittingham, she said that she thought she remembered Mummy telling her that Donald was playing on a bridge, fell off and landed on his head and died.  It's funny how the tales differ in family stories.  As we go along, I wonder how many other stories are going to be far different, and how we're going to sort out the facts.

Alice Morris managed to raise her two daughters without much help from her errant husband.  Mummy had a piece of lace, she called it "tatted", made by "Granny Chappel".  I don't know if this was Alice, or her mother, Isabel, or Isabella, but being from Bedfordshire, famous for its hand-made lace, maybe she and her daughters made lace.  It is said that though the origins of lacemaking in Bedfordshire can never be pinpointed with exactitude, it is said that it may have been introduced by no less a personage than Queen Katherine of Aragon, first wife of King Henry VIII.  The Queen was imprisoned in Ampthill, while Henry's obedient officials instituted divorce proceedings against her.  Legend has it the Katherine herself taught lacemaking to the inhabitants of the village.  Or maybe they worked in one of the many shoe factories in the area.  At the time of Alice's marriage to Dorry, they both listed their employment as working in the shoe industry.

Paul Kelly says that lacemaking was very common in Nottinghamshire, and that he thought that maybe Granny Alice spent some time there.

One story told to me by Alison Waring was that the girls had been invited to their first "tea dance", a formal dance, and their mother had worked hard to make them beautiful dresses to wear.  They were finished shortly before the dance was to take place, and stored in a chest under the window.  About that time, their down-on-his-luck father turned up for one of his infrequent visits.  After he left, when the girls went to try on their dresses, they found that along with their father, the dresses were also missing.  Grandmother Alice wouldn't allow the girls to go to the dance improperly dressed, and since they didn't have any other fancy dresses, they had to miss the tea dance.

There must have been many other dances, though, because Mummy told us that at one time Grandma was the "waltz champion" of England.  She said that her partner was (Sandra correct me) either Sir Somebody who had a surname that had to do with tea, Lipton or what's the other one?  Somebody help here!  Mummy said that for the competitions, they attached a half an egg shell to the heel of the woman's shoe, and they had to dance on their toes.  If the egg shell broke, you were out of the competition.  Oh, my aching calves!  When we were little, Mummy taught Sandra and me how to do the box step, and we spent many a moment box-stepping around the living room.  We never tried the egg shell thing, as there would be no doubt that there would have been crushed egg shells all over the floor.

Before her marriage to Ernest Partridge, Catherine had a baby boy, Jack, who was born out of wedlock.  I've heard two stories about who his father was.  One is that he was a relative of Princess Diana's, a Spencer from Althorpe, and the other that he was a well-known rugby player.  Paul Kelly says that her first child to Ernest Partridge was also born just a teeny bit prematurely too, but as Mummy always said, "The first baby can come any time, but after that, they take nine months."

Catherine worked for a time as a maid/housekeeper in a very wealthy household.  There is the story that the owner of the house was always testing her honesty by leaving money lying around on tables.  This angered her so much that once she grabbed up the money and threw it out the window, where it fell onto the head of the home owner.  I never heard when she left his employ, but could it have been then?  Paul says that her employer at this time was Fr. Knutt, for whom Grandma worked as a housekeeper.  Ummm, she threw the money onto the priest's head?  Oh, boy!  What would be the pennance for that?

It was after this that our family became Catholics.  As I understand it, when Grandfather Partridge was killed in France during WW1, Grandma had to seek employment in order to feed and clothe her children.  It was when she was working as a housekeeper for the priest that she met one of the parishioners, "Pop" Kelly, and married him.  When his job took him to Yorkshire, she and part of the children relocated to Yorkshire, with part of them remaining in Rushden, Northamptonshire.

A tidbit from Paul:  "During an air-raid, Gran didn't go to the shelter this time, my Mum came in to check everything was ok - she was the air raid warden for the street - Gran, being a "big" woman and of mature years, when the bombs started falling ducked under the table that was against the wall opposite the window.   Mum said, "What the.....!  Mum are you alright?"  "Yes," came the reply.  "I've got my tin hat on."  "YOU MIGHT HAVE YOUR TIN HAT ON YOUR HEAD, BUT IT WOULD BE DOING A BETTER JOB ON YOUR ARSE!"

Alice Elizabeth Chappell Morris:  I don't know much about Alice, but Alison Waring shared the story of the "cross in a bottle" with me, a bottle of water with a wooden cross inside.

A gentleman of the road, not a tramp or a hobo, but a man willing to work, but had nowhere to live and didn't want to go into the workhouse, called at Granny Morris' to see if she had any odd jobs for him to do.  There were just a few, and for that she gave him a few meals as payment as they couldn't afford much.  They got to talking, as people do, and she told him that she was due to get married to "Dorry".  A week or so before the wedding, the chap turned up again and gave her the bottle.   He had made it himself as a thank you and as a wedding present as she had been so kind to him.  Every so often he would turn up to do odd jobs, even after she was married to Dorry, as he didn't do much around the house, the stuff men were supposed to do then.  He was a blessing after Dorry left as, at least for a time, she knew she could count on a man to help.  As you know, they fell on hard times themselves, but that bottle was one thing that she would not let go.  She would not even pawn it as it meant a lot to her.

Alison told me about the legend pertaining to the cross in the bottle.  Alison will have to refresh my memory, but it went something like, as long as the water in the bottle is clear, there will never be another world war.  And she said that one of her brothers delighted in shaking up the sludge in the bottom when no one was looking.

Paul says that the bottle is an ordinary clear glass wine bottle with all the "instruments of the passion of Our Lord" inside; cross, ladders, nails, hammer, a scourge, crown of thorns..... a religious "ship-in-a-bottle".  The bottle is clear (unless disturbed, that is) but will "cloud-up" when there is going to be a family "tragedy" - a death, or a family upset until it is resolved.  Paul was the keeper of the bottle from 1984 until he passed it on to Alison last year, 2002. 

Does anyone have a photo of Grandma Morris that they would be willing to loan me to put on the website?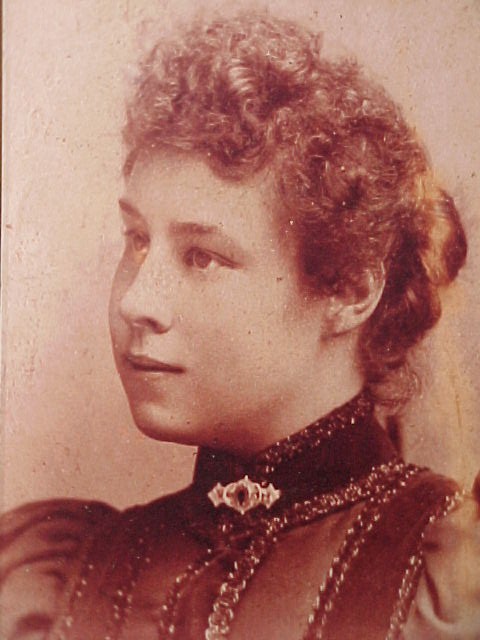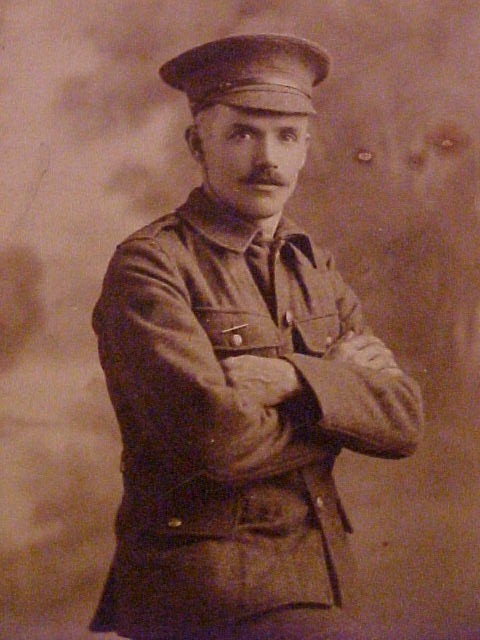 Grandmother and Grandfather Partridge

Below are photos of family.  Those that I can identify, I will.  If you can put names to the others, or if I have misnamed any, please let me know.  Joan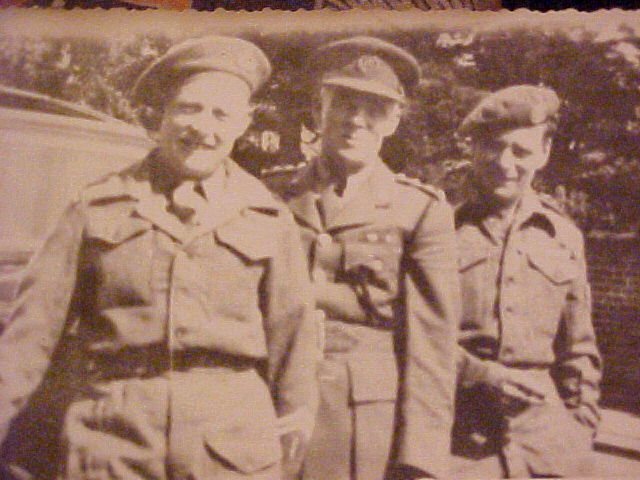 Three of the sons of Ernest and Catherine Partridge, soldiers all.  Maybe Uncle Ted, Uncle Walt and Uncle Sonny.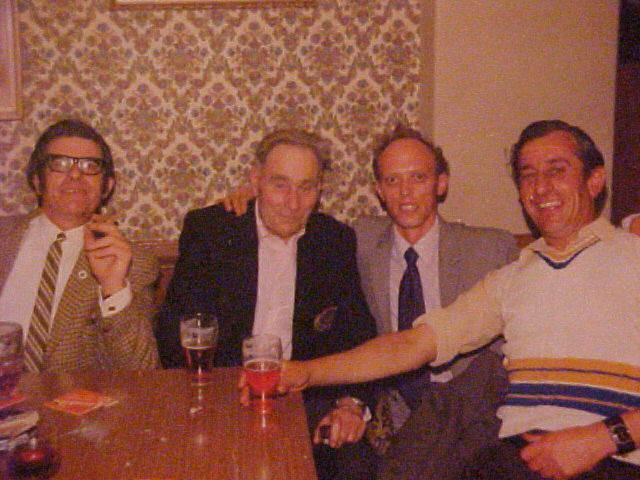 Uncle Walt, cousins Les and Don, and a friend at a darts tournament.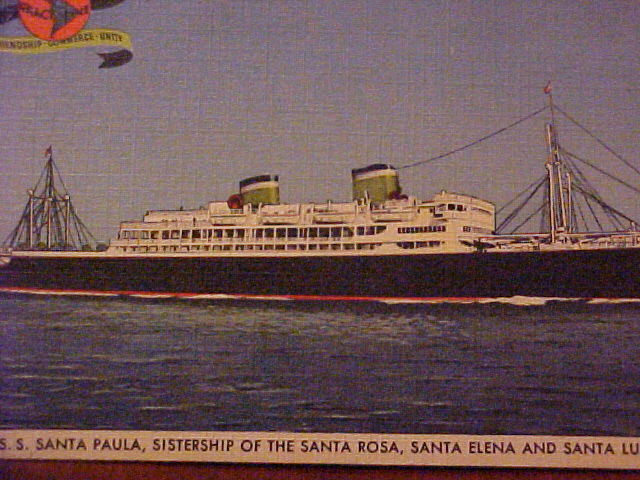 The ship that brought

Mummy and Sandra

to America.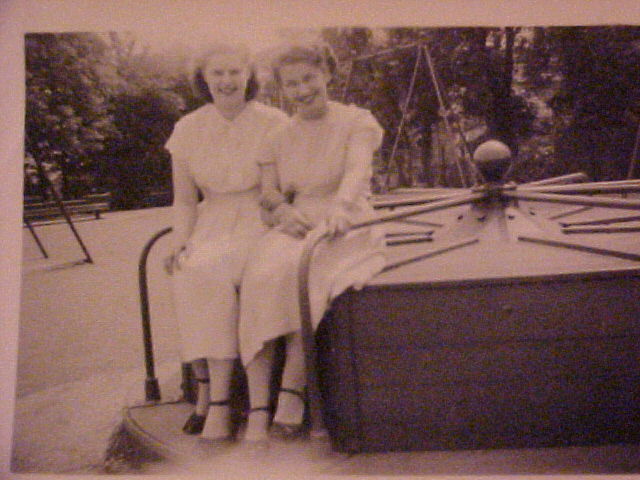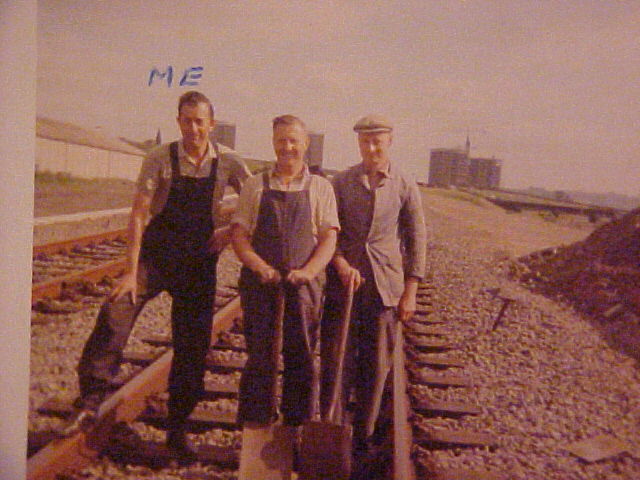 This is Les or Don Partridge, I think.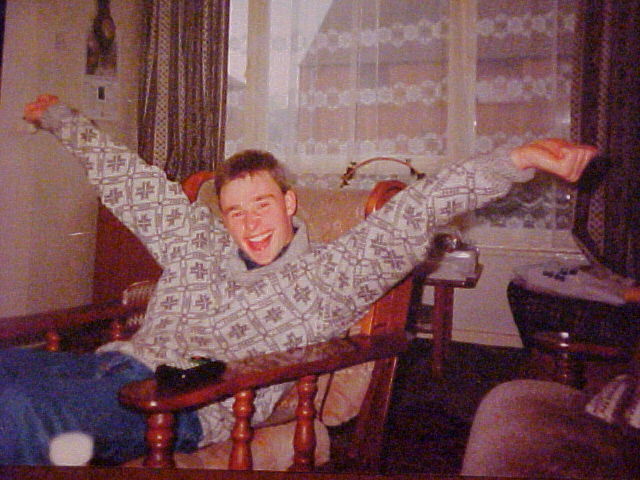 Anybody want to claim this guy?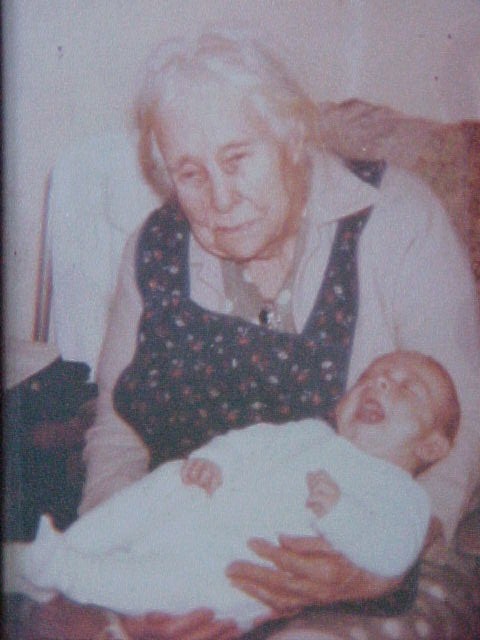 Grandma Kelly, sometime after her

100th birthday, holding one of Alison's babies.